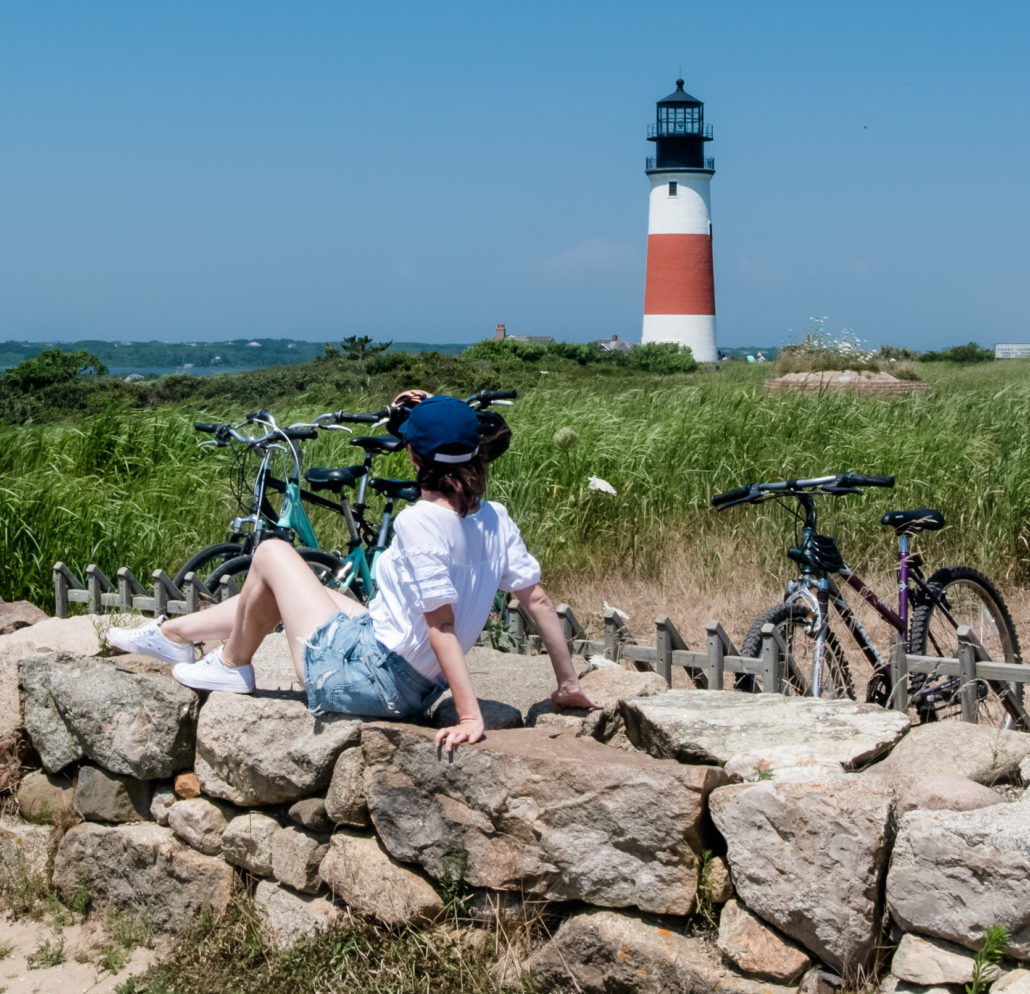 Getting to Nantucket
There are two ways to get to Nantucket – by plane or by boat! I've always taken a ferry since it's pretty convenient from where we live in Connecticut. For this trip, we took the SeaStreak out of New Bedford, Massachusetts. We reserved our tickets in advance along with the parking. There are two ferries a day – 9:30am and 3:30pm, so it's definitely necessary to reserve a spot.
My favorite thing about leaving out of New Bedford was no Cape traffic! We left on a Saturday in July so the traffic leading into the Cape is usually pretty bad this time of year. It took less than two hours to get to New Bedford. For Seastreak, there are two parking options – valet ($25 a day) or The Whales Tooth Parking Lot ($15 a day), less than a mile down the road. There is a shuttle that runs from The Whales Tooth Parking Lot to the boat launch. Rob dropped me and the girls off along with the luggage at the boat launch and parked the car. He then opted to just walk back as opposed to taking the shuttle.
If you have luggage that you are bringing, I would recommend getting to the boat a little bit early to be able to load your luggage on the luggage carts. When we arrived, there were SeaStreak employees helping get luggage loaded. There is limited space on the carts and once the carts are full you need to bring the luggage with you to your seat. It can be inconvenient if you have a lot of stuff! Overall, we had a really good experience on Seastreak. The boat is a bit smaller than the Hyline Ferry so less people and masks were required to be worn. We were able to bring our stroller on and found a four-person booth with a table. The trip was 1 hour and 45 minutes and it sped right by. As we entered Nantucket, I brought the girls to the top of the boat where the winds had calmed down and we were able to see the Brant Point Lighthouse and our first views of Nantucket.
The other ferry option is The Hy-Line Ferry. We have taken the Hy-Line from Hyannis and there are a lot more ferries going to and from the island. If you bring a car, this is the ferry you will need to use. There is a slow ferry (two hour ride, also used for cars) and a fast ferry (one hour ride).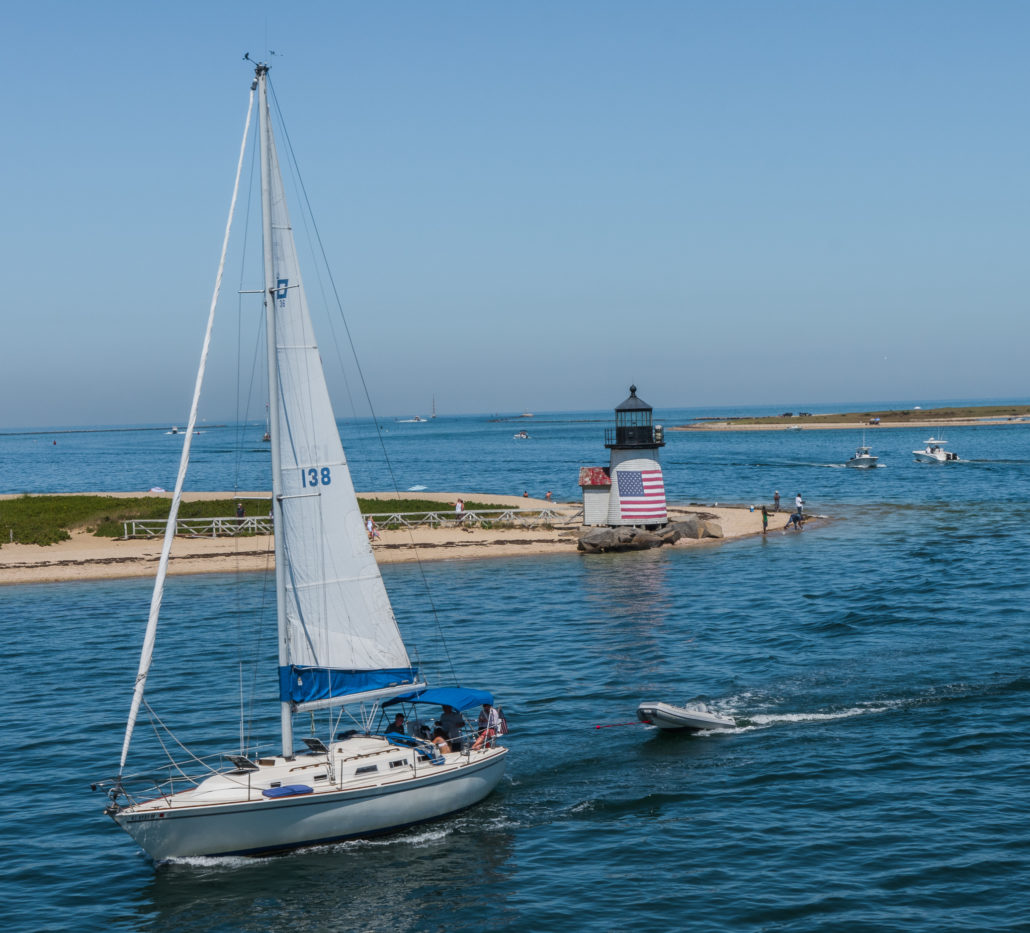 Getting Around Nantucket
Bikes: Bikes saved us on this vacation! There are a variety of bike shops on the island, including Nantucket Bike Shop, Island Bike Company, and Young's Bicycle Shop. We reserved the bikes online through Nantucket Bike Shop prior to going and were able to get the bikes delivered and picked up right from our cottage. We rented one bike with a burley trailer that can fit two kids up to 100 pounds. They also had bikes with a smaller baby bike seat on the back available.
Biking is such a big part of the Nantucket experience and there are so many bike paths throughout Nantucket. We rode our bikes from the middle of the island to Sconset on the Milestone Connection Path. It ended up being about 10 miles which was farther than we originally thought, but we made it!
The Wave: We used the Wave Bus, Nantucket's public transportation system, a few times while we were on the island. We took the Wave out to Madaket to eat at Millie's and see the famous Madaket sunset, and also out to Sconset to visit for a second time. The bus is very easy to use. Nantucket has a website (linked above) with all the available stops and routes. There is also an app that can be downloaded to view live updates about where the bus is. The buses take cash only, but they will give you cards for future rides if you don't pay with the exact amount. The buses were clean and not packed. Masks are required to be worn and we were able to fit out stroller (folded up) onto the bus. On one ride back from Sconset, we were the only people on the bus the whole way back!
Car: Unfortunately, we were not able to reserve a spot to bring our car on this trip. I didn't realize before booking, but car reservations are incredibly hard to come by unless you reserve a spot far in advance. Cars can be taken to the island from the Hy-Line Ferry. When we knew the week we were going, we immediately got on the waitlist to bring our car, but no spots opened up prior to the trip. I've thought a lot about whether I'd recommend a car on the island and the answer is really dependent on what you want to do while you're there and how long you're staying. Another consideration is the price. To bring a car over is pretty pricey, about $400 roundtrip. If you are staying for a week or more it may be worth it to load all the kids stuff plus food for the week in a car and not worry about buying anything once you are on the island. Everything is a lot more expensive once you are there. For us, as much as I loved biking and getting my exercise this week, it definitely would have been convenient to have a car. Rob and I love to go to various parts of the island and it would have been fun to bop over to different sections without trying to figure out how we were going to get there. If you are there for a few days and your trip is mainly in town or by the beach, a car is probably not necessary.
Car Rentals/Taxis: We didn't utilize taxis this week, but there are taxis on the island that may work for getting to various locations. There are also car rentals available. If you are interested in a car rental, I would look early in advance since these book up as well!