Old Wethersfield holds a special place in my heart. My grandparents owned a home on Main Street in the historic part of town for 60 plus years. There were many days spent playing on the town's Green and walking around eyeing the historic homes. And now all these years later, my parents bought their forever home right in the heart of Old Wethersfield. I am so excited that Elle will get to experience growing up here just like I did. It makes me all sorts of sappy just thinking about it! For it being such a small part of town, it is so surprising how much there is to do in a one mile-radius.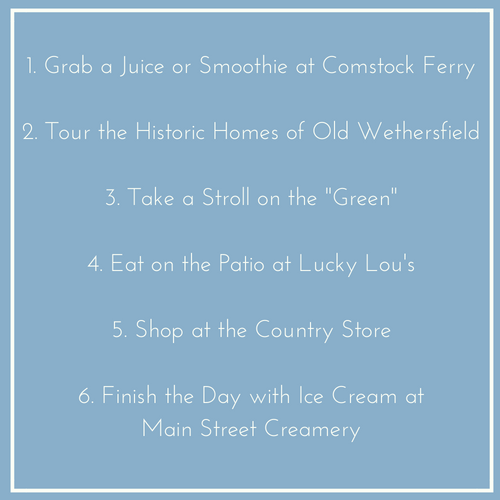 I would highly recommend starting the day at Comstock Ferry. Comstock is a seed store that has transformed into a natural foods market. The store sells fresh pressed juice, smoothies, coffees and has hearty breakfast options like avocado toast. There is a casual patio right out front of the store to sit and take in the scenery.
There is so much history in Wethersfield. During different times of the year you can tour some of the Town's historic. There are several museums on Main Street as well. Check out the Historic Wethersfield website for all the details on when to visit.
The Broad Street Green (the "Green" as the locals call it) is the perfect place to take the little ones for a walk. There are mature trees and the Green itself is surrounded by historic homes. The town sometimes puts on events right on the Green, like farmers markets or events for the kiddos.
Right in the heart of Main Street sits my favorite restaurant in the area – Lucky Lou's. It has a large patio making it the perfect warm weather after work hang-out. I recommend finishing up lunch and grabbing an ice cream at the Main Street Creamery. From there stroll down Main Street and pop in the shops!