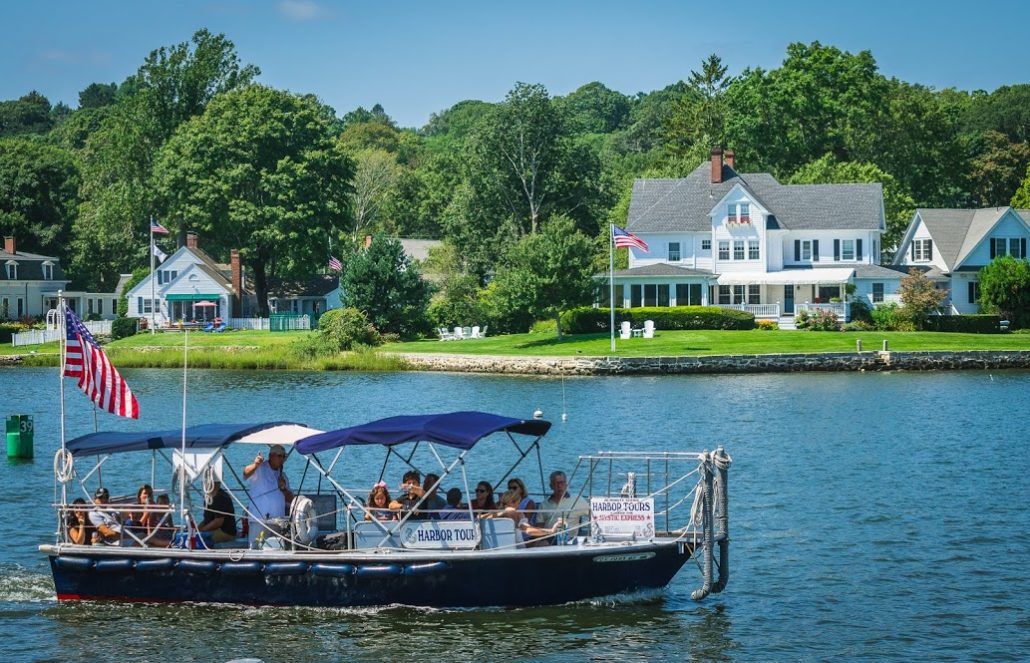 If I had to name a summer destination spot in Connecticut perfect for families, Mystic would be it. Every time I drive into Mystic, I feel like I am officially on summer vacation in a place far away from home. Mystic is technically a "village" located on the Mystic River in the towns of Groton and Stonington. This little village not only has scenic views of the boats sailing up and down the river, but it is also packed with a ton to do. Rob & I brought the kids on a warm summer day to tour this beautiful town. Below is the itinerary from our recent day trip and my other Mystic favorites.
Tour Mystic Seaport
We started the day strolling through the Mystic Seaport Village – a 17 acre village sitting on the Mystic River – which recreates a 19th century seafaring village. The Seaport is open every day from 9am to 5pm and has so many different activities for the kids. The buildings are trade shops from the 1800s that were brought to Mystic from locations in New England. Kids can learn about how ships are made, wood-carving, and the traditional foods that were served and much more. There is playroom for younger kids and an opportunity to explore one of the large ships in the river as well as a classic lighthouse. The museum constantly changes its exhibits so we have brought Elle several times and it never gets old. In the Seaport, there is also an opportunity to ride the Sabino along the river. The Sabino is one of the oldest wooden coal-fired steamboats in the United States. TIP – if you only want to spend a little time at the Seaport, tickets are half off starting at 3:45 pm!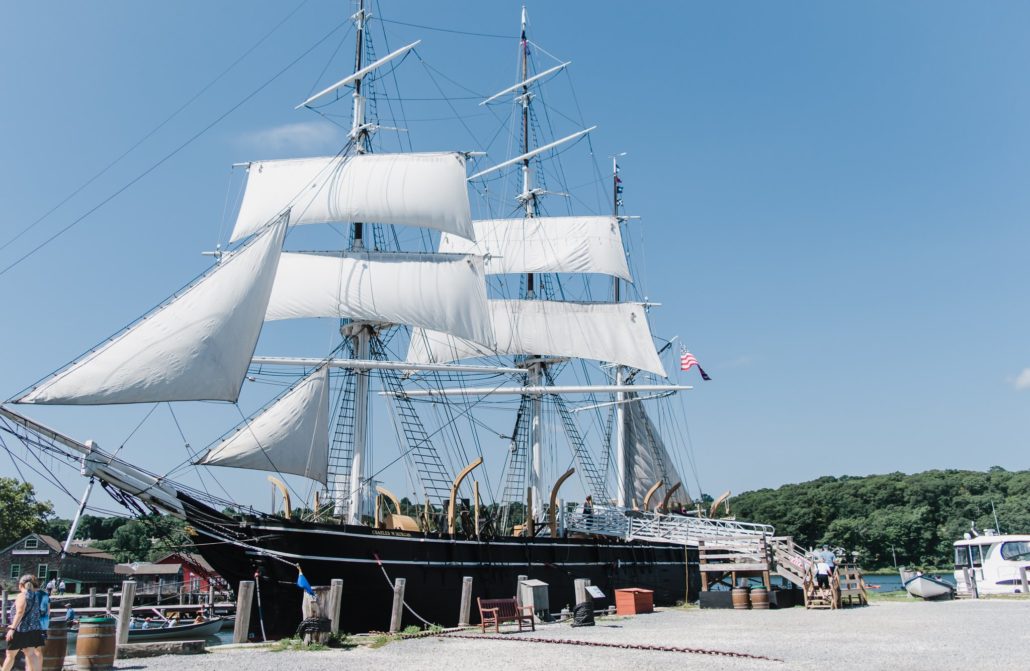 Head to Lunch on the Water
After a morning of exploring Mystic Seaport, we drove to Red 36, located on the water with indoor and outdoor seating. We sat on the upstairs patio and scarfed down lobster rolls and classic fish & chips. The views were absolutely incredibly. Right near the restaurant, there is a playground for kids if dining out doesn't go as planned! A few of my other favorite dining spots are the Engine Room – a classic American restaurant serving delicious comfort food and yummy cocktails – and S&P Oyster – a bit fancier with an outdoor patio on the river. The Engine Room is not on the water, but it is close to the Seaport and the food is beyond good!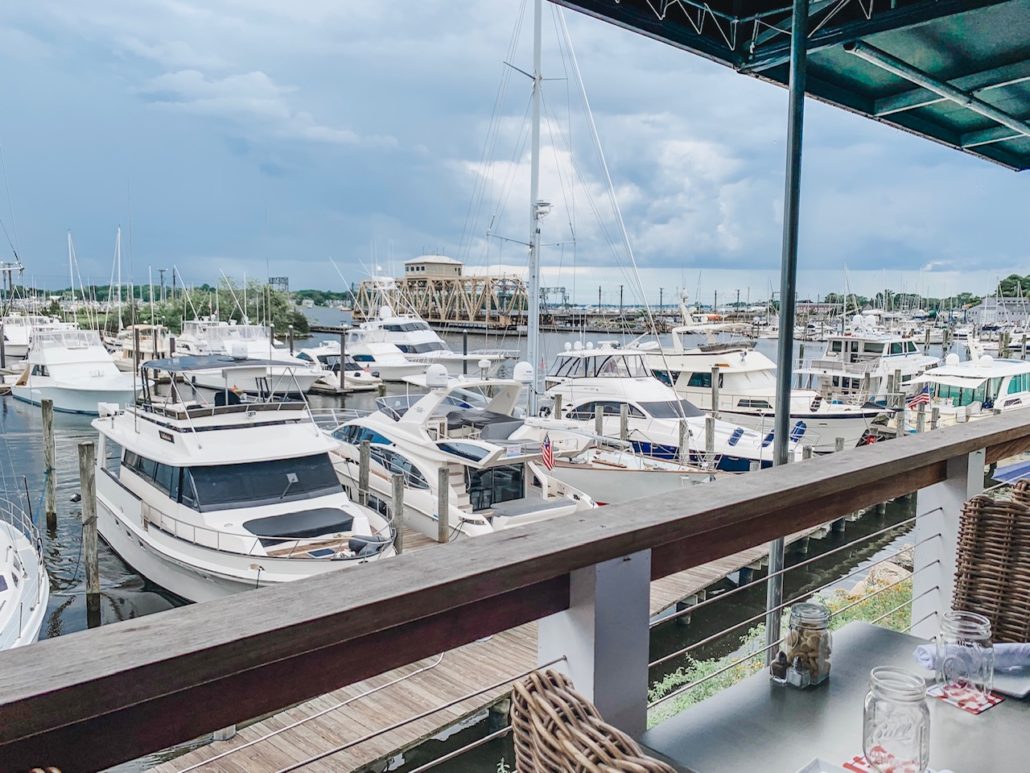 Grab an Ice Cream at Mystic Drawbridge Ice Cream Shop
We finished lunch and walked to the village center across the bridge to Mystic Drawbridge Ice Cream Shop. The ice cream is homemade and there is a door off to the right of the shop that leads you to a viewing spot of the river and bridge. It's a view you can't get anywhere else! The only drawback is this place tends to get packed mid-day.
Stroll & Shop!
After an ice cream, we checked out a few of the stores. Some of my favorites are Island Outfitters, Mystic Knotworks, Mystical Toys, and Marine Consignment of Mystic. Mystic Knotworks is the first and oldest knot shop in the United States and all of its items are homemade! I particularly love the classic sailor bracelets and knotted coasters. For those of you who don't know, I have an obsession with all things consignment! Tag sales, antique sales, estate sales…I love them all! The Marine Consignment of Mystic is consignment for all things nautical and boat related. If your looking for old oars, buoys, etc. this shop would be worth a stop!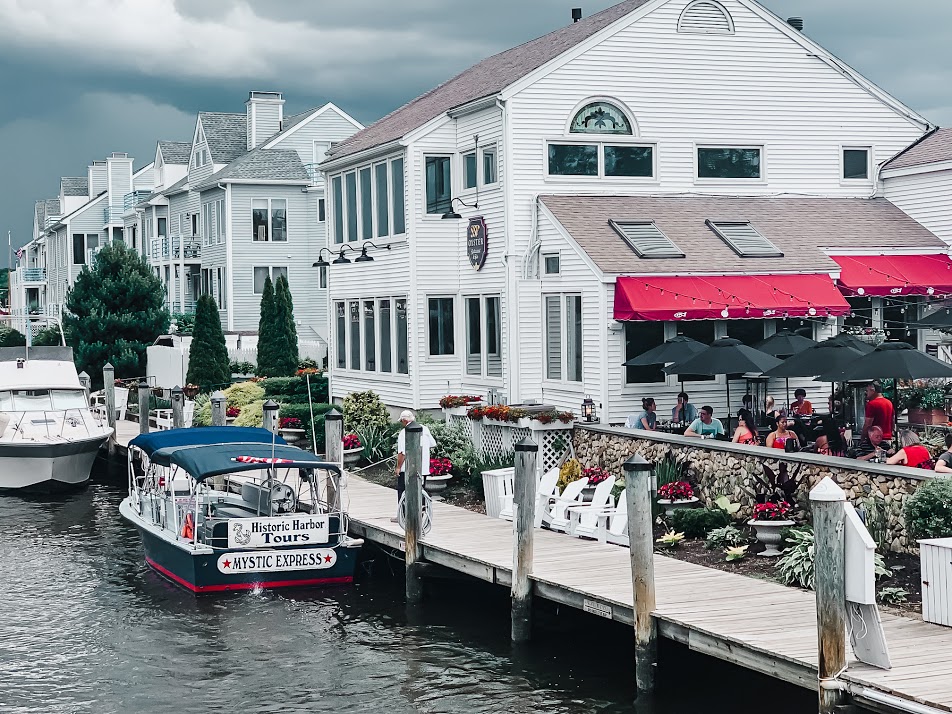 Have More Time?
If you have a bit more time, I would recommend planning a visit to Mystic Aquarium or Olde Mistick Village. Olde Mistick Village is a recreated 18th century New England village with shops, restaurants, and cinema.
There are also opportunities to get on the water from Schooner Wharf. Boat cruises are offered at various times throughout the day and would be such a fun way to see the Village and river.