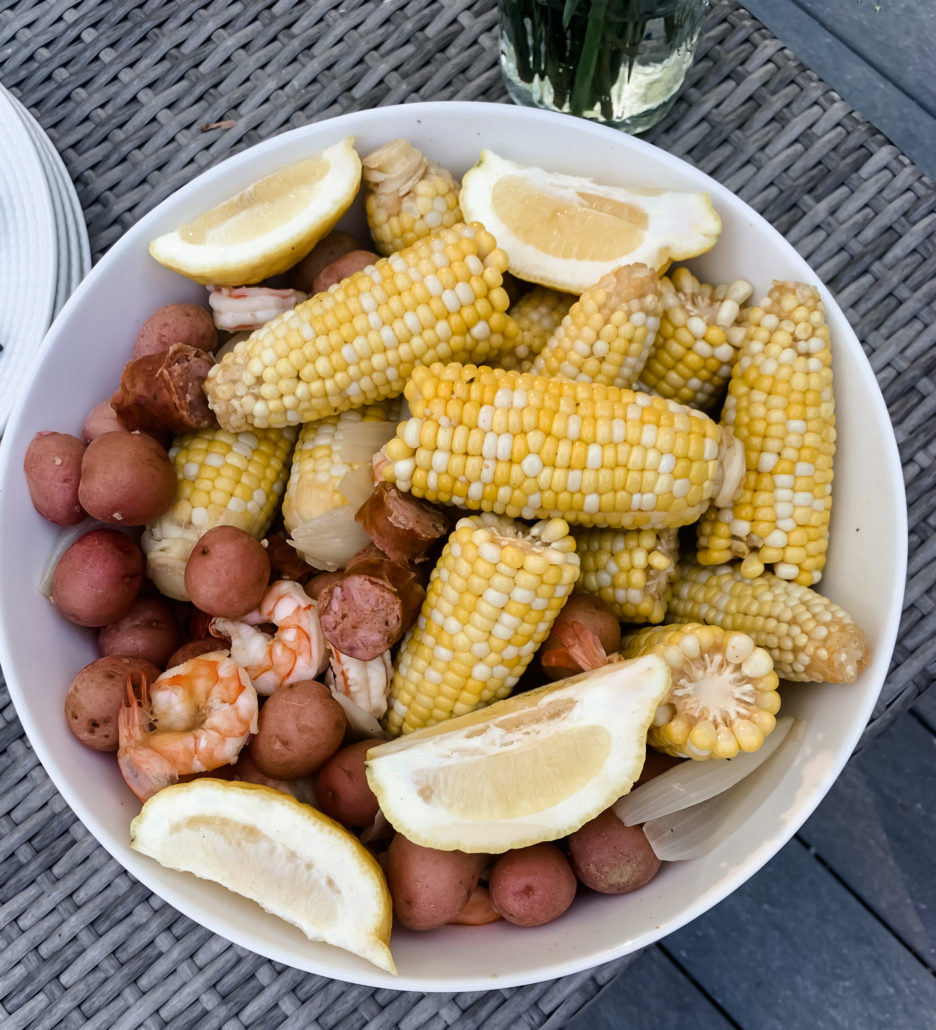 My friend, Kristin, cooked up this classic shrimp boil for Rob and I a few years back and the meal always stuck with me. This dish is New England on a plate. It is a mix of shrimp, corn, red potatoes, spicy sausage, and the perfect broth seasoned with Old Bay. Kristin served it by pouring the shrimp boil directly on a paper tablecloth and we all dove right in. It was impressive! The meal itself brings back the best memories for me of eating with good friends on a warm summer night talking about everything to come. At the time, it was Baby #2.
We invited my parents over for Memorial Day Weekend and this meal was first on my list to try to recreate. The recipe is adapted from Food Network's Shrimp Boil Recipe and it came out exactly like I remembered. The corn, potatoes, and shrimp soaked in the old bay, lemon, and thyme seasoning and the sausage added a little bit of spice. I served it with fresh ciabatta rolls and we finished off our meal with baked berry pie and vanilla ice cream.
---
Ingredients
2 lemons, halved, plus wedges for serving
1/2 cup Old Bay Seasoning
8 cloves garlic, smashed
1 large red onion, quartered
6 sprigs fresh thyme
1 pound baby red potatoes
4 ears corn, husked and snapped in half
1 1/4 pounds large shrimp, unpeeled
2 tablespoons unsalted butter
1 package andouille sausage (I used cajun-style)
Preheat oven to 350 degrees. Once preheated, add the sausage and cook for 20 minutes.
Fill pot with 4 quarts of water. Squeeze lemon juice into water and then add lemon halves to the pot. Add onion.
Tie the thyme sprigs together and add to the pot. Cover and bring to a boil. Once boiling reduce to a simmer and cook about 5 more minutes.
Add the potatoes to the pot and cook for 15 minutes. Add corn and cook for 5 more minutes.
Add shrimp to the pot, cover, and cook until shrimp are opaque – about 3 minutes.
Transfer the shrimp and vegetables with slotted spoon to a large serving bowl. Add butter and 1 1/2 cups broth and toss.
Serve with extra lemon wedges and broth. You can eat directly from serving bowl, pour onto large platter or directly onto paper tablecloth. Add some fresh bread as a side and dive in!